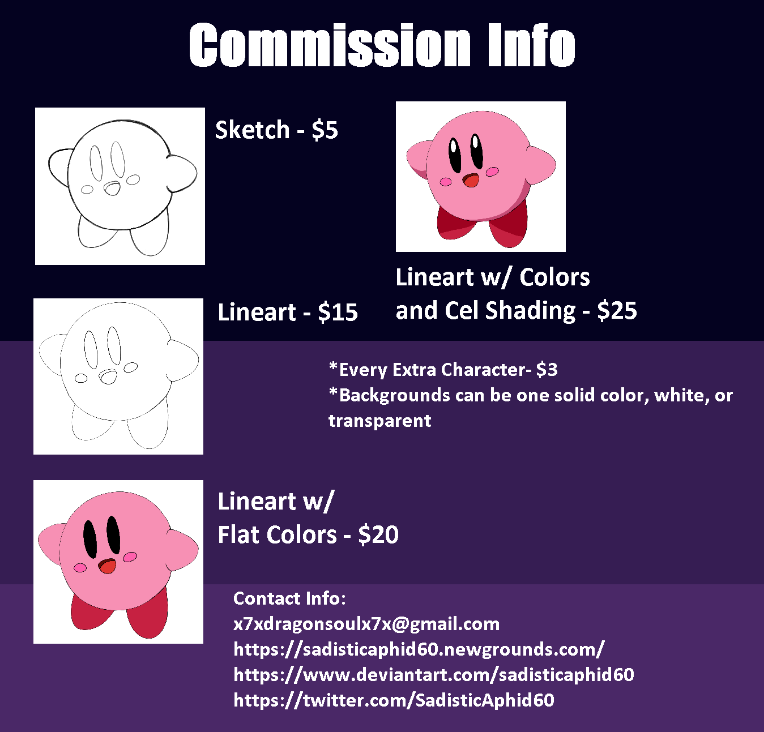 Commission Prices:
Sketch- $5.00 USD
Lineart- $15.00 USD
Lineart with Flat Colors- $20.00 USD
Lineart with Cel Shading- $25.00 USD
Every Extra Character- $3.00 USD
**PLEASE READ ALL INFO BEFORE ASKING QUESTIONS & ORDERING**
Let me know whether you care if I post the drawing on my gallery/social media and if you want me to name you as the person who commissioned it. If you don't tell me, I'll assume you don't care and will post it but I won't name drop you. 
My paypal email is: x7xdragonsoulx7x@gmail.com
Paypal is the only payment method I accept. I will send you an invoice for payment after I send you a rough draft. If Paypal ever asks you if you have or have not received the "product" aka your commission, you absolutely HAVE TO SAY YES EVEN IF THAT IS NOT TRUE. I will send you the commission via email when it is completed so nothing will be sent to you through the paypal service. Paypal may try to track the "product" but since we're dealing with digital goods here, there's nothing to track. And if there's nothing to track, Paypal will automatically assume that the I'm scamming you and I will be fined very heavily for a crime that never happened. Heres one last thing about paypal. If I don't recieve payment after the draft has been sent, you will not recieve a completed commission. This isn't me trying to be stingy. I'm just trying to make sure I don't get scammed into working for free.
Message me or send me an email to discuss ordering. Commission related only please. All non-business emails will be ignored.
Before you send me a request, please make up your mind on what you want to commission. Describe what you want in as much detail as possible. Be sure to send me references along with a detailed description of your commission so I can get an idea of what you want it to look like. I will send you a rough draft only once your order has been discussed and I agree to do a commission for you and have started on it. Include as many references as possible. I can't make something based off of your words alone. Include posing, positioning, colors you want, etc.
Send me a message if you have any questions. I will always answer privately. 
( Backgrounds can only be simple colors, white, or transparent. )
*Order Form* ( Fill this out and paste it into your order. I do this to make everything as clear as possible for me and you. )
(insert package you want here)
Do you care if I post your art in my galleries? - (Yes or No)
If yes, do you want to be name dropped? - (Yes or No)
Extra characters? - (Yes or No)
If yes to extra characters, how many? - (Insert number here)
Background? - (Color, White, or Transparent)
If colored background, what color? - (Insert color here)
(Insert description of commission here/post or link reference images)